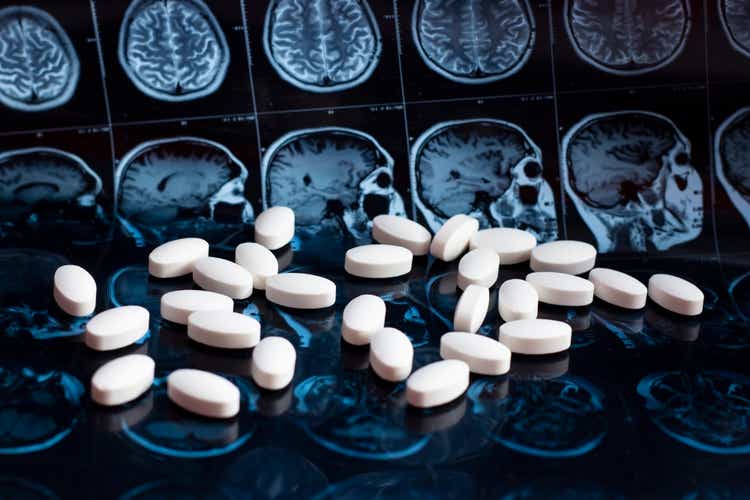 Ildar Imashev/iStock via Getty Images
Apparently in response to another attack on its credibility and integrity, this time by Quintessential Capital Management, Cassava Sciences (NASDAQ:SAVA) has tried to defend the pre-clinical research for its drug. Specifically, the Journal of Neuroscience confirmed that except for one slide duplication, all the other Western blots from a 2012 article outlining the effects of the company's future drug candidate simufilam were correct (Western blots are used to detect specific proteins) (press release). Reflecting the truly speculative nature of this stock, its value went up 50 percent on this "news".
In a way, Cassava Sciences is on trial with each side providing its own forensic experts to try to prove guilt or innocence. More important, though, than questions regarding biomarkers are questions regarding the accuracy of the cognitive test scores.
Cassava Sciences has been on the defensive almost from the beginning. The company did report positive results from a phase 2a clinical trial in February 2020. But then in May 2020, the company announced that in a phase 2b trial its drug (then known as PTI-125) had missed its primary endpoint in terms of reducing tau levels. The company blamed this outcome on high variability of the biomarkers in Alzheimer's disease. But it went on to suggest that the independent lab that conducted the study has messed up:
Today's top-line results disappoint and are not consistent with previous clinical experience for reasons that are unclear at the moment," said Remi Barbier, President & CEO. "We plan to thoroughly analyze these top-line data, and to re-analyze CSF biomarkers from study participants, to better understand the outcome of this study. Alzheimer's is a disease in dire need of new treatments. It is worth reflecting on what we can learn from this study and how to move forward with drug development plans for PTI-125 in Alzheimer's disease." (source of quote).
Cassava Sciences then apparently went back to the lab that had produced the phase 2A results in February, and once again the previous better results were achieved. To wit, the drug produced improvements in several biomarkers (including phosphorylated-tau). It also appeared to have produced improvements in episodic memory and spatial memory at 28 days (trial results).
The company then went on to conduct an open-label trial. At nine months, the improvement in ADAS-cog scores was reported to be 3.0 at nine months and 3.2 at one year. The scatter plot at nine months, indicated that 66 percent of the patients on the drug improved. Why did some patients improve and not others is open to question: Were they non-ApoE4 carriers (non-ApoE4 carriers decline more slowly during the early stages of Alzheimer's disease)? Were they on other Alzheimer's medications? Were they at higher baseline levels? And open label trials raise potential questions of cherry-picking and observational bias even under the best of circumstances. Many of these questions regarding simufilam cannot be definitively answered or laid to rest without results from a double-blinded, randomized, placebo-controlled phase three trial.
The stated mechanisms of simufilam would not have produced improvements in cognition. Simufilam's calling card is that it restores filamin A, a ubiquitous binding protein, to its original form. In doing so, it inhibits amyloid-mediated over-activation of alpha-7 acetylcholine-nicotinic receptors and over-activation of toll-like receptors. But we now know from other trials that amyloid plaques have almost no correlation to cognitive decline (report, p. 66/20), and that the removal of amyloid oligomers has no effect on non-ApoE4 carriers and only a very modest effect on ApoE4 carriers (study). So whatever effect simufilam is having on amyloid binding would not lead to improvements in cognition.
So either simufilam has another mechanism of action which its scientists have not discovered or the numbers are not accurate. One possibility is that simufilam restores filamin A to its natural confirmation via denitration (nitration filamin A, Table Two). The nitration of proteins is a significant factor in Alzheimer's disease (oxidation and nitration). Simufilam does reduce levels of nitrated tau but whether it reverses nitrated tau is uncertain. If it reverses the nitration of other proteins beyond possibly filamin A, then it would have a greater impact on Alzheimer's disease. But even if it does so, there are compounds such as those in panax ginseng/red ginseng that do so better and have produced better results at one year than simufilam.
Cassava Sciences is the most speculative stock in the Alzheimer's field. Predictions have been made by its promoters that had no chance of occurring such as being fast-tracked to approval. While the FDA has broken with some norms over the last few months, it is not going to grant approval or expedite approval of an Alzheimer's drug based on a one year open label study. Nor is the claim true that this drug has produced results never seen before. On the other hand, not all the claims made against the company are likely true either.
Cassava Sciences' financial position varies somewhat due to its stock volatility, but in any case it certainly appears that the company has enough cash on hand to finish its phase 3 clinical trials (financial analysis). Whether these trials may get delayed or ended due to any forthcoming investigations into the charges levelled against the company remains an open question. Another wrinkle is whether CEO Remi Barbier will seek to sell the company. For reasons dealing with executive compensation and perhaps with elevating the value of the company, Cassava Sciences always seems to be trying to oversell itself.
In theory at least, Cassava Sciences should settle back into the $40 to $50 a share range, but I would not be surprised if it continued to fluctuate erratically based on the release of additional information that either further chips away at the credibility of the company or which is used to bolster the company's claims. If investors want to take the risk, that is up to them; but those thinking that this is the answer to Alzheimer's disease will likely be disappointed.
This article was written by
Disclosure: I/we have no stock, option or similar derivative position in any of the companies mentioned, and no plans to initiate any such positions within the next 72 hours. I wrote this article myself, and it expresses my own opinions. I am not receiving compensation for it (other than from Seeking Alpha). I have no business relationship with any company whose stock is mentioned in this article.