Will Royal Caribbean's new Icon Class cruise ships be the largest in the world?
When Royal Caribbean announced plans for a new class of cruise ship, they provided very few details, but becoming the new biggest cruise ship in the world wasn't part of the announcement.
It now looks like perhaps the Icon Class ships will be larger, according to recent comments made by a Royal Caribbean executive this week.
Travel Weekly is reporting the newly promoted Senior Vice President of Hotel Operations, Sean Treacy, indicated Icon of the Seas will be larger than the Oasis class cruise ships.
"Icon will be the biggest. It launches in the fall of next year and will be the first new ship class for Royal in a decade," Mr. Treacy said while onboard Wonder of the Seas during a trade event.
Travel Weekly went on to say a Royal Caribbean spokesperson confirmed the fact Icon of the Seas, which will be the first Icon Class cruise ship, will be larger, "Icon-class ships will be bigger than our Oasis class."
The disclosure by Mr. Treacy is the first public statement about the fact Icon will be larger than Oasis Class, although it's not clear in what aspect will Icon be larger.
According to Royal Caribbean's Form 10-K filing with the U.S. Securities and Exchange Commission on May 5, 2022, it still lists Icon of the Seas has having slightly less passenger capacity than Wonder of the Seas or Utopia of the Seas.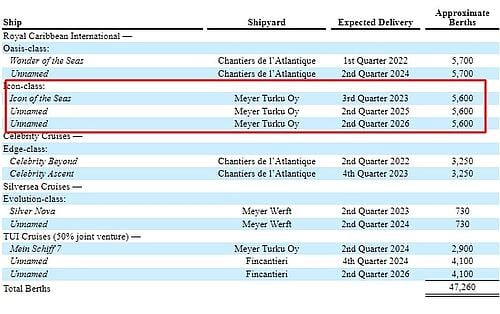 In the filing, Icon and the other unnamed Icon Class ships have approximately 5,600 berths compared to Wonder and Utopia's 5,700 berths.
When Royal Caribbean first announced the Icon Class in October 2016, they estimated the ship would be able to handle approximately 5,000 passengers. Of course, the cruise line indicated at that time and for some time thereafter that the concepts were still being developed.
There are three Icon Class ships on order:
The keel was recently laid for Icon of the Seas at the shipyard in Finland, which signals the official start of construction.
Royal Caribbean International President and CEO Michael Bayley confirmed that Icon will initially debut in the UK, and then sail from Miami.
While Royal Caribbean has not announced yet what the ship will look like, itineraries, or other important features, they have hyped the vessel as a game changer.
"The ship is unbelievable," said Mr. Bayley in a recent interview. "It's an amazing ship. What's fascinating about Icon is the sheer amount of product."
Bayley indicated Icon of the Seas will feature a combination of 'tradition, evolution and revolution' cruising elements from Royal Caribbean. 
Favorites, such as the Schooner Bar, will continue to be found on Icon.
On the other hand, evolution elements revolve around continuously improving elements that cruisers love, such as entertainment venues and waterslides. Finally, revolution elements are 'industry-firsts' and are meant to be WOW factors for the company.
View the discussion thread.
Have our travel agency partner get you a free quote for a Royal Caribbean cruise
Like what you see? With your support, we can create more exciting content and share with everyone!
Become an Insider
Started in 2010, Royal Caribbean Blog offers daily coverage of news and information related to the Royal Caribbean cruise line along with other relevant topics of cruising, such as entertainment, news, photo updates and more.
Our goal has been to provide our readers with expansive coverage of all aspects of the Royal Caribbean experience.
Whether you cruise multiple times per year or you're new to cruising, the goal of Royal Caribbean Blog is for it to be a useful resource for keeping up to date with what's new and exciting with Royal Caribbean.
Privacy Policy
© 2010–2023 Regal Sea Media LLC. All rights reserved.
The material on this site may not be reproduced, distributed, transmitted, cached, or otherwise used, except with the prior written permission of Royal Caribbean Blog.